Zero Hedge | Tyler Durden - It's not surprising whatsoever that Maryland has been ranked the worst state for retirement, according to a new Bankrate study. The state has a whole list of problems, mainly due to it's out of control taxation by local governments, the implosion of Baltimore City, unaffordable housing, and the high cost of living.
Bankrate analyst examined eleven public and private datasets related to the life of a retiree. The study concentrated on five categories (weightings in parentheses): affordability (40%), crime (5%), culture (15%), weather (15%) and wellness (25%). It determined that Maryland ranked last at no.50, it ranked no. 47 for affordability, no. 33 for crime, no. 42 for culture, no. 18 for the weather, and no. 37 for wellness.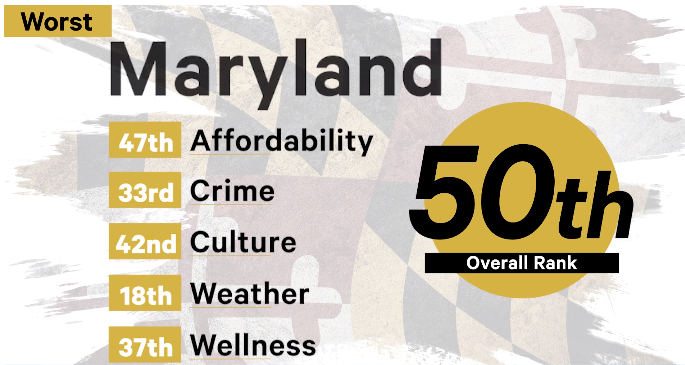 "Where to live is probably one of the most personal decisions one can make because it's not just about preferences, it's also about the financial considerations that are associated with it," says Mark Hamrick, senior economic analyst at Bankrate.